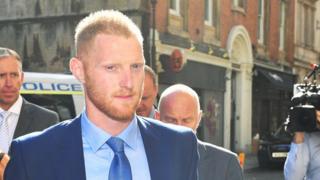 England cricketer Ben Stokes lied when he said he acted in self-defence during a fight outside a nightclub, a court has heard.
The Durham all-rounder, 27, who denies affray, is on trial at Bristol Crown Court.
Prosecutor Nicholas Corsellis said Mr Stokes "acted deplorably as the red mist came down".
The cricketer is on trial alongside Ryan Ali, 28, whom he is alleged to have knocked out outside Mbargo.
Mr Ali has also denied affray while Ryan Hale, 27, was acquitted of the same charge last Thursday.
Giving his closing speech, Mr Corsellis told the jury Mr Stokes acted "to defend himself or in defence of another" when Mr Ali had a bottle in his hand, but then "quickly turned aggressor".
"Even if Mr Stokes has begun using self-defence, he very, very quickly after this became the aggressor, with Mr Hale trying to pacify him together with Mr Ali," Mr Corsellis said.
"He was pursuing them into the road, repeatedly punching at them at least six times, with his teammate Alex Hales calling him away 'Stokes… Stokes… stop… stop…'.
"If Mr Stokes was being tried alone, we submit that his behaviour would constitute an affray.
"It is plain Mr Stokes is lying."
'Complete nonsense'
Mr Corsellis added that Mr Stokes "acted deplorably as the red mist came down and struck with such force that he rendered one person unconscious".
During his closing speech, Mr Stokes's barrister Gordon Cole QC said it was "compete nonsense" for the prosecution to say the cricketer was "drunk and enraged".
He said CCTV footage from just before the fight showed he was "not behaving in a drunk way".
He added that footage recorded by film student Max Wilson "clearly shows Ryan Ali going at Alex Hales with a bottle".
"You can see where Ben Stokes is, he's not rushing at anybody, he's not charging into the fray."
'Special treatment'
Mr Cole said there had been a "great deal of rowing back" by the prosecution since the trial began.
"Is this man [Mr Stokes] getting special treatment because of who he is?" Mr Cole asked.
"Is this man being focused on because of who he is?"
Last week, giving evidence, the cricketer said he "stepped in" to defend two gay men before the fight in Bristol on 25 September last year.
Mr Stokes, of Castle Eden, Durham, was arrested in the early hours along with Mr Ali, of Bristol, and Mr Hale, of Westbury-on-Trym.
The fight took place several hours after England had played a one-day international against the West Indies at the city's County Ground.
The trial continues.